RBC and the University of Toronto recently partnered up to create the RBC Innovation Fellowship program, a joint venture designed to recognize exceptional faculty and graduate students and to provide them with additional resources to advance their research.
The RBC Research Prize 2017 winners come from a variety of disciplines, including Machine Learning and Advanced Data Analytics, Cybersecurity, and User Experience Design/Design Thinking/Human-Machine Interfaces.
________________________________________________________________________________________________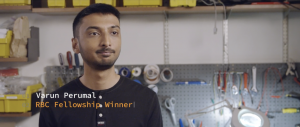 This years RBC Fellowship Winner is DGP's own Varun Perumal, a Human-Computer interaction researcher and bonafide hardware engineering fanatic, whose Printem film makes it possible for anyone with a home printer to produce their own electronic circuit boards.
Varun gave RBC a brief overview of his winning proposal in an interview:
"My research is primarily about creating novel fabrication techniques the process of making physical things that will change the future of how we manufacture. Just as 3D printing has made advances in decentralizing and speeding up the production of mechanical products, we're trying to do something similar for electronics, mainly the components that go into your devices."
This year's RBC Research Prize Winners are Gerald Penn and Cosmin Munteanu.
The faculty members also gave a brief overview of their winning proposal:
"One of the interesting challenges we're facing is that everyone's jumping on the AI bandwagon, but we don't have a very good human interface for it yet. In the finance world, for example, high-level financial analysts these are people who do long-term planning for large investment firms or banks €" still use pen and paper. It's shock from a tech perspective. There's nothing wrong with it per se, but they're not benefitting from all these machine learning and NLP advances. The essence of our proposal is to make sure these people can benefit from the technology and to address the problem that the software currently available to support these tasks isn't designed well for their purposes."
Full interviews and more details about the winning proposals are available on the RBC Institute for Research website.