Third Space research group at the DGP lab organized a two-day virtual HCI4D event on July 1-2, 2020. This event brought together papers on critical computing and international development published at CHI 2020. 22 papers from four different continents were presented at this event and 210 participants from across the world registered to attend this virtual event. The program featured research on diverse areas including healthcare, accessibility, migration, automation, communication among communities, and design. Two keynote speakers— Prof. Ishtiaque Ahmed from the University of Toronto and Prof. Joyojeet Pal from Microsoft Research, India—delivered thought-provoking speeches on Hope and Political imperatives of development research.
CHI is the largest conference for research related to human-computer interaction (HCI) and this year it was canceled due to the COVID-19 pandemic. As a result, researchers across the world lost an opportunity to present their works to larger audiences. Many regional HCI communities, research domain-specific groups, and universities stepped forward and organized virtual CHI events at different scales. The events presented subsets of CHI 2020 papers. The Third Space research group joined them and organized this event to showcase HCI for Development (HCI4D) papers from CHI 2020.
Figure 1: Two keynote speakers. (left) Prof. Ishtiaque Ahmed talking about Hope and design. (right) Prof. Joyojeet Pal is talking about political imperatives of development.
The two–day program began at 8:30 am in the morning and went on until 5:00 pm EDT. Prof. Ishtiaque Ahmed delivered the opening keynote presenting some critical reflections delving on Prof. Michelle Murphy's conception of "economization of life" and concluded by sharing ideas on integrating "hope" with design. The paper presentation sessions were initiated after the opening keynote. The event was divided into a total of six sessions with each session being two–hours long. Three to four papers were presented in each session and were categorized based on the shared themes of the paper. Each paper was given 15 minutes for presentation and five minutes for a question-answer (Q&A) session. At the end of each session, based on the preferences of the participants, there were options to move forth with an extended Q&A session or create breakout rooms for participants to socialize with each other. Since one of the key goals of conducting this event was to provide ample opportunities to participants for socializing, we created several breakout rooms on Zoom so that participants can meet each other and socialize. The program concluded with an honest and engaging closing keynote by Prof. Joyojeet Pal on the political imperatives in HCI4D research.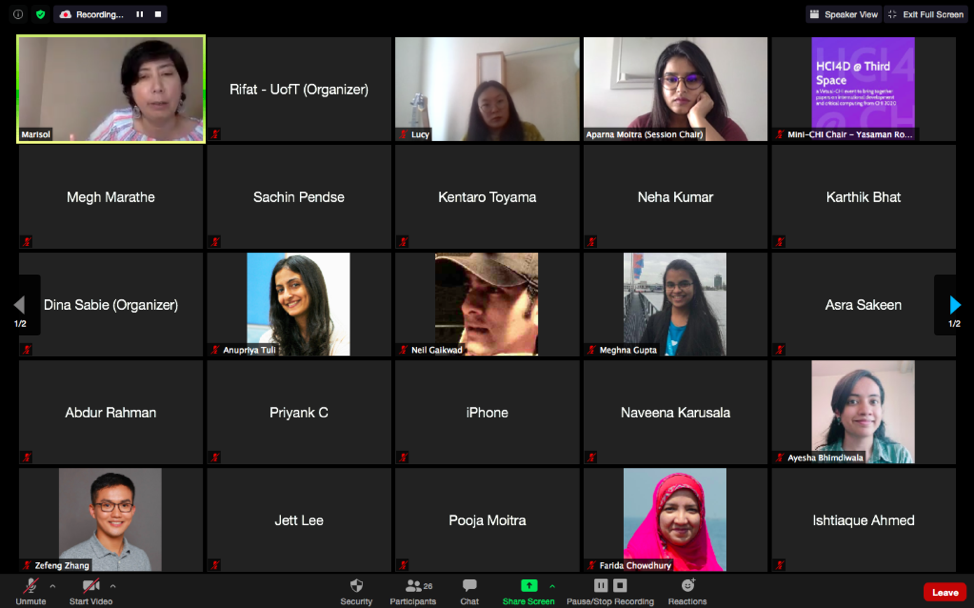 Figure 2: A subset of participants.
Twitter buzz created around the two-day event as well as positive feedback shared by participants at the end of the session break-out rooms were very encouraging and inspired the organizers to hold similar programs at regular intervals. Its virtual nature provided participation and networking opportunities to emerging HCI4D researchers, especially from the Global South who are otherwise unable to participate and network internationally due to various resource constraints. The Third Space research group hopes to organize this event at a larger scale next year onwards, collaborating with more diverse researchers and presenting researches published in CHI as well as other HCI4D venues.