Personal Info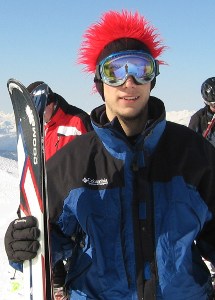 Name

Christopher Gonterman

Contact

Email

School

University of Toronto

Degree

Masters

Field

Computer Science
At a Glance
I am a Masters Student in Graphics at the Dynamic Graphics Project. I received my Bachelor's degree in Computer Science from the University of Washington, with minors in Mathematics and Physics. I've been programming since ~6th grade as a hobby. Take a look at my projects page to see some examples of what I've done.
I'm a skier and a gamer. My games of choice are Halo (Ryuuji42), StarCraft, and Rock Band (drums, mostly).
Peer-Reviewed
Dan B Goldman, Chris Gonterman, Brian Curless, David Salesin, Steven M. Seitz. Video Annotation, Navigation, and Composition. In UIST '08, Proc. ACM symposium on User Interface Software and Technology, pp. 3–12, October 2008.
Other
Professional