This page last updated September 11, 1998. This page will not be updated. I expect most of the links pointing to other site will ``go bad'' sooner than later.
---
P L A Y A L A N D
Ever notice how adults can get really silly and happy when they happen upon a playground and let go of their seriousness for a while? The only problem with playgrounds is that they are all designed for little folk. Why not an adult size playground?

PLAYALAND: pla-ya-land
n. 1. A playground for adults. 2. A theme camp at Burning Man '98. 3. A part of Gigsville.
---
Playaland home page
Gigsville '98 post-burn home page
---
This page is no longer being actively maintained, but existing as reference material. Expect web links to expire, to move, and to disappear, as they tend to do. See the Playaland home page for the latest on Playaland. - Dave T. 11-Sep-98.
Playaland '98 pre-burn web space
Playaland '98 pre-burn home page
Ideas for Playaland
Who is ?
Shade and sketches
Truck to BM
Gigville's truck page
June 30th email
Bob's 97 Burn pics (deleted)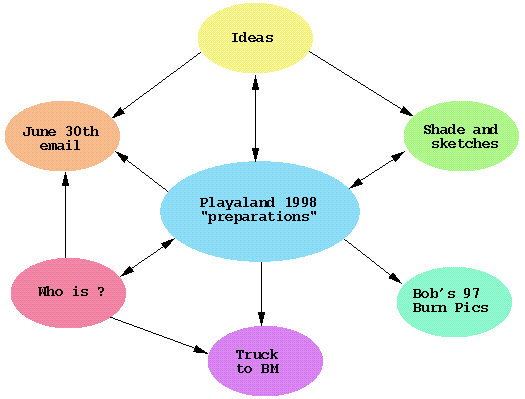 The playaland page started as a single page to collect our ideas. After hundreds of email messages and lots of ideas, I decided to split the single page into a variety of smaller pages. Links and ideas are continually being added. The original page of ideas is now the Ideas for Playaland page and the "Who is ?" page. Equally important are Bob's email of June 30th outlining the possible implementation of several ideas and some follow up ideas on the shade structure and big toys. The latest page to be split off the home page is the "Who is ?" page which answers the questions "Who is coming / doing / paying / bringing tools / transporting ?".
Finally, the most up to date news on the status of Playaland can be found in the e-mail archives.
---
A few related pages
The '98 Burn

Previous Burns

Other stuff

Makeup Questions/Answers for body-painting.

Sources of glow in the dark paraphernalia:

Paradigm from Bob

Also Sylvia has a catalog (with good prices) for glow in the dark stuff and toys.
---
Playaland mailing list
The Playaland mailing address is playaland@makelist.com . Good or bad, to send e-mail to the playaland mailing list you need to sign up with the mail server first. I would assume this to be an anti-spamming measure.
---
This page last updated September 11, 1998. This page will not be updated.
This page is http://www.dgp.toronto.edu/people/davet/burn/98prep/playaland.html
Wanna play?