B.C.
| | |
| --- | --- |
| | |
| Me 'n Dave Chanady in first year caught in our favorite past-time: Procrastinating, eating Doritos and watching TV in the lounge. | This is Alex. She used to be the junior Judo champion of Romania. We co-instructed some of the beginner's judo classes at UBC. |
Dennis Teo. a.k.a. "Yo Mister!". Top civil engineer and purveyor of bad bagel bets. You should see all the girls go crazy over him when he does the cha-cha. The CareBear pillowcase shows us what a sensitive guy should have on his pillow.
This is my physicist brother. Only a physicist would bring a book on electrodynamics to Red Robin. What a nerd.

In this picture, he is mad at me for taking a picture of him.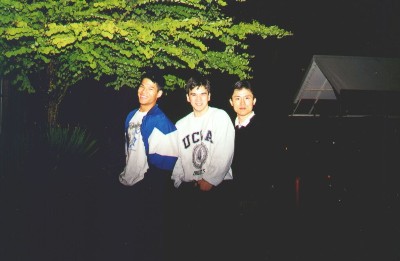 Slackers.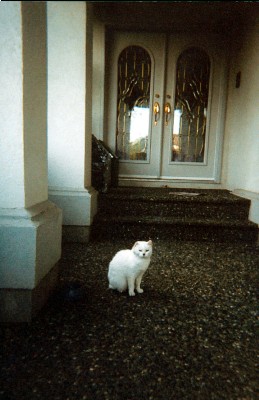 London, Ont.
| | |
| --- | --- |
| | |
| Antje is Swiss girl currently in a biomedical lab in Zurich. Stef is a mechanical engineer from Eidhoven (Netherlands) who tried to teach me how to insult people in Dutch. We are romping around UWO. They thought their bikes could beat my rollerblades. They were right. (but only uphill, and not by much) | Brian was so happy to see the two of us leave London, he took us out for lunch at Windermere manor. |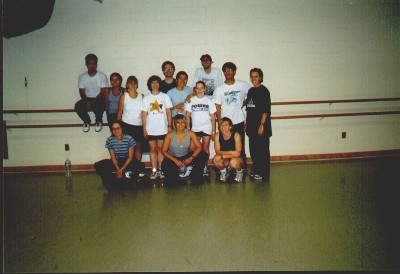 Funk and hip/hop dance class: It's tiring!
| | | |
| --- | --- | --- |
| | | |
| This is Dan Johnson. He eats the lunch that his wife makes him at IMTI-NRC. Look how he reinforces our visual stereotype of the scientist. Don't mess with Dan! | Oliver Schoenborn. This man is an rough-ridin' biker dude. He was my supervisor (along with Dan) at IMTI-NRC. With a PhD. in statistical mechanics, he can calculate what molecule 5,129,597 is doing. Whoa! | In the Swiss Alps, Stefan once attempted to urinate on a post. Unfortunately the post was part of an electric fence. Poor Stephan! He is pictured here with his friend, Harry the moose. |