COWHL All-Star Game
(This page is under construction; the contents are not official and are subject to change!)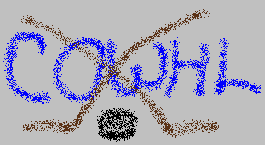 The 1997 All-Star Game of the Central Ontario Women's Hockey League will be held on Monday, March 3rd at Icelands in Mississauga. Game time is 7:15pm, and the game will be held at Rink #1. Mississauga mayor Hazel McCallion, Ron McLean and Don Cherry will be on hand, and the latter will draw the winning ticket from the Don Cherry Sweepstake.
The North York Aeros, Ontario's 1997 Senior "AAA" champions, will meet an all-star team made up of players from the other six teams in the Central Ontario Women's Hockey League.
Senior "AAA" is the highest division in the Ontario Women's Hockey Association, and the highest calibre of play in the world. (It is from this level that players are chosen for Canada's National Team.) The Central Ontario Women's Hockey League is made up of the only seven teams in Ontario designated Senior "AAA": Hamilton Golden Hawks, London Devilettes, Mississauga Chiefs, Newtonbrook Panthers, North York Aeros, Scarborough Sting, and Peterborough Pirates.
The League All-Star Game is an annual showcase of the best female hockey talent in Ontario. It is a demonstration of the female game played at its highest calibre: clean, fast, skillful hockey in which body contact is permitted but intentional body-checking is not allowed.
North York Aeros will represent Ontario at the Canadian Women's Hockey Championship in Richmond, BC March 6th to 9th. Proceeds from the All-Star Game will help to defray their travel costs for that event.
Interest in Female Hockey has been growing at a rapidly increasing rate since the announcement of its inclusion as a medal sport in the Winter Olympics, beginning in 1998 in Nagano, Japan. The 1997 World Women's Hockey Championship in Kitchener will be a qualifier for the Olympics. Both events are bound to include many of the players taking part in the C.O.W.H.L. All-Star game. A satellite game between China and Switzerland will be held at Icelands at 7:00 pm on April 1st. Tickets are 8$. For more information, call 1-800-265-6368. The Iceland Arena can also be reached at: (905)824-0685.
The March 3 game will be an ideal opportunity for hockey fans to get to know the stars and future stars of this very popular spectator sport. Admission is 4$.
Background information about the league and the players in the March 3 game is available upon request.
Here are the rosters for the North York Aeros, and for the All-Star Team.
North York Aeros
Goalies:

 1 Jen Dewar
30 Tracy Cook
35 Kelly Dyer (Team USA 1990, 1992, 1994, 1995)

Defense

 9 Gillian Ferrari
10 Kelly Smith
11 Cheryl Pounder (Team Canada 1994)
12 Allyson Fox
77 Cassie Campbell (Team Canada 1994, 1995, 1996, 1997)
91 Geraldine Heaney (Team Canada 1990, 1992, 1994, 1996, 1997)

Forwards

 2 Cindy Cryderman
 4 Erin Rourke
 6 Amy Turek
14 Kylie Richardson
16 Marianne Grnak (Team Canada 1994, 1995, 1996)
21 Heather Richardson
33 Amanda Benoit (Team Canada 1996)
44 Sommer West
55 Stephanie Kay
71 Sari Krooks (Team Finland 1990, 1992, 1994, 1996)

Pickup Players
The Provincial Champions North York Aeros will enhance their team with these players for the All-Star game and while at the National Women's Hockey Championship in Richmond, British Columbia, March 6th to 9th, 1997:
Margot Page, Mississauga Chiefs (Team Canada 1990, 1992, 1996)
Vicky Sunohara, Newtonbrook Panthers (Team Canada 1990, 1996, 1997)
All-Star Team
The coaching staff from the seven teams of the COWHL recently voted on the COWHL All-Star Team. Each coach was required to vote for a first all-star team goalie, two defence, and three forwards. Similarly, each coach also voted for a second all-star team. No coach was allowed to vote for his/her team's players. Congratulations to Geraldine Heaney on being the only unanimous choice to the First All-Star Team.
First Team
Goalie: Tania Pinelli MIS
Defence: Geraldine Heaney NOR , Cassie Campbell NOR
Forward: Vicky Sunohara NEW , Margot Page MIS , Jayna Hefford MIS
Second Team
Goalie: Jen Dewar NOR
Defence: Carol Cooper MIS , Cheryl Pounder NOR
Forward: Karen Nystrom NEW , Angela James NEW , Sommer West NOR

Since seven of these players, including Mississauga's Margot Page and Newtonbrook's Vicky Sunohara, will be playing for the North York Aeros, the COWHL all-star team will be expanded to include players from all six other teams in the COWHL. The roster will be posted as soon as it is finalized.
Coaches
Phil Delaire, Newtonbrook Panthers (Head Coach)
Rick Osborne, Mississauga Chiefs
Lynda Harley, Scarborough Sting
For players stats check out the All-Star Game Stats Page
---
Send comments to: marc@whockey.com
---
Visitors since May 13, 1996
---