Team designs twist on software
Virtual shapes created on a computer screen by manipulating ShapeTape, a flexible tape-like tool
---
by Nicolle Wahl
April 15, 2003 -- U of T researchers have created software that will enable users to twist, bend, push and pull shapes in two and three dimensions."
Our work represents a completely different way of interacting with computers," says Professor Ravin Balakrishnan of U of T's Department of Computer Science, who led the research. "It moves away from the 'one-size-fits-all' keyboard and mouse paradigm to more specialized tools for specialized tasks."
The team's software allows users to create virtual shapes on a computer screen by manipulating a flexible tool called ShapeTape in tandem with a foot pedal. ShapeTape, which looks like a long rubber ribbon, has a spring steel core and is embedded with fibre optic sensors. The tape, which is physically held in both hands, can be twisted and bent to change sizes and shapes on screen. It can also locate shapes in three dimensions. "We're able to do more things in the virtual world," says Balakrishnan, "while still maintaining a connection to the physical world."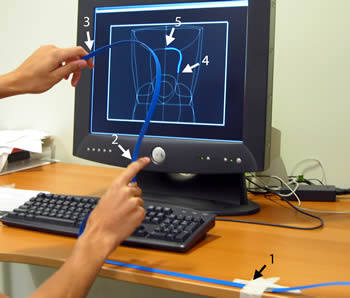 Manual manipulation of ShapeTape
(Image: Ravin Balakrishnan)
Balakrishnan says the ShapeTape software could be used to design and refine technical drawings of virtually any product, including computers and cars. The research appears in the Association of Computing Machinery's Computer-Human Interaction Letters, Volume 5, Issue 1.
Nicolle Wahl is a news services officer with the department of public affairs.
CONTACT:
Professor Ravin Balakrishnan, Department of Computer Science, ph: (416) 978-5359; email: ravin@cs.toronto.edu
U of T Public Affairs, ph: (416) 978-6974; email: nicolle.wahl@utoronto.ca
---