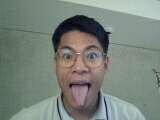 I am currently interested in a Hand Hygiene Audit Tool called HandyAudit.


Email: mtsang [at] dgp [dot] toronto [dot] edu

Office: DGP - BA 5169 (416-946-8491) & KM - BA 7230 (416-946-8500)
I am interested in computer science.



Current special interests and projects include the effect of technology on group awareness and social identity, application of software engineering practices into business models and processes, ubiquitious computing and ambient information concepts, theortical foundations of interaction and natural interactivity, elastic constraints and preference, visualization techniques for capturing the 'feel' of time based recordings, media and influence, and using machine learning in human-computer interfaces.

Research:
---



Boom Chameleon

3D browsing and annotation

Popular press:

ComputerSweden, Stockholm, Sweden. Se i 3D med bom. [Teknik] (Anders Lotsson) - 27 January 2003 ooo

c't Magazine, Hannover, Germany. virtuelle Haftnotizen, issue 23/2002, page 50 (Wolfgang Stieler) - 04 November, 2002

New Scientist Magazine, London, UK. Let me show you round this car: Mobile Window onto Virtual Worlds, [Frontiers] vol 176 issue 2363, page 16 (Eugenie Samuel) - 05 October 2002

(Also in UOL Inovao, Wireless Week, and Manufacturing.net)




---

Temporal Thumbnails

Michael Tsang, Nigel Morris, Ravin Balakrishnan. Datamining viewing preferences




---

---

Hierarchical Resonance

unpublished manuscript, 2003 Framework for the analysis of natural interaction

---

Distributed Brainstorming

---

Fickle Identity and Instant Messaging

---
---
Undergraduate research description
---

---
Recommended reading:

| | |
| --- | --- |
| | - "Getting Past No" by William Ury. (also see "Getting to Yes" by Roger Fisher and William Ury) |
| | - "The Social Animal" by Elliot Aronson |
| | - "The Information Age: Economy, Society,and Culture", "The Rise of the Network Society", "The Power of Identity" by Manual Castells. |
| | - "No Sense of Place", by Joshua Meyrowitz. |
| | - "First Things First" by Steven Covey |
| | - "Emotional Intelligence" by Daniel Goleman |
| | - "Letters of a Businessman to his son" by G. Kingsley Ward |
---