Trishul 7120 metres, from Bedni Bugyal
10 sept. 2000.
i transcribe here the events of the past two weeks that must rank overall as the most intense experience of my life as i have known it thus far. as with most accounts i have recorded over the years, this one too, preserves my memories lingering in the aftermath of the experience. for the first time, however, i felt compelled to feverishly scribble a bunch of names, quotations, words and other memory triggers as i lived them onto what amounts to all of two large post-it notes. i can only gather now that i must have felt the importance and sheer intensity of the journey, through the journey. i will try to keep it true to fact, with allowance only, for the minimal required self-indulgence and chest-pounding of a mission accomplished.
hashmat is my brother inlaw, or my brother inlaw's brother inlaw to be precise. more importantly he is an avid himalayan trekker, keen photographer and enough of a kindred spirit for us to spend two weeks together in a tight two man tent without killing each other. i have trekked, tramped and hiked a fair bit over the years on three continents other than my own but little did it prepare me for this. hashmat and i had often spoken of a trip together but it is rare for time and inclination to impulsively align in the lives of two professed urban professionals. we almost took off to kulu a month back to follow some villagers carry a deity 5 days across a mountain in a lesser known festival but this is monsoon time in the himalayas and word from the village never came. then there was word of the nanda raj-jat, a once in 12 year festival in the garhwal himalayas where the goddess daughter nanda is carried over 280 km by foot over a 17500 ft pass, to the 13500 ft homkund near the the 24000 ft trishul, the mountain home of her husband lord shiva. sounded like a worthy hike, a reasonably high altitude lung and leg burner, a good photo-op. the yatra started on the 22nd aug. from the village of nauti. we planned to catch it on the 31st at phaldiagaon, which was as far as could be reached by road. i was in bombay on the 28th awaiting an email from hashmat that would either mean i extend my stay in bombay or leave immediately to be back in delhi on the 29th. the email, like a telegram said...
"landslides, much rain, but yatra on in full swing, lets go!"
30 august, 8pm, delhi.
we did not know how we were travelling until a few hours before. hashmat was looking into a few options, from jeeps, trains to local buses. as it was, we were in a cab and then at ISBT by 9. we are immediately flocked by brokers for "deluxe 2x2 where you want to go" buses. i shirk one off in hindi. "oh sorry, mein samjha aap bahar se ho", its not the first time that shorts and a backpack would imply "phoreigner". we are on a local bus by 10, travelling in style 108Rs. we buy half a seat to keep a seat empty. only two sitting on a 3 seater, beaurgoise among the plebes. we get a good whiff of delhi air whose chief constituent is diesel engine exhaust. our acclimatization to the oxygen levels of higher altitudes has begun. the driver makes it to rishikesh in a record 5 hours as it starts to rain. the bumps in the road rearrange my bones. we stop in rishikesh for a bit and then its on to srinagar... climbing through the wispy dark above the bhagirati in monsoon swell, past devprayag and rudraprayag, the bus conductor doubles up as a human windshield wiper on the inside. now and then we get off the bus to lighten the load across a couple of lanslid spots.
31.
its pouring in srinagar at 7am. a quick cup of tea and we are squeezed into a bus for karanprayag winding up the pindari river. find a govt. guest house there, freshen up. there is a govt. babu in a small room on a wireless checking in and out of various spots on the yatra. he is mostly enjoying the sound of static and constantly overshoots the spots on the dial where the signal comes in strong. "over and out, come in wan, roger"... he knows all he tells us the road to mundoli is broken up, but not to worry, they have made arrangements for "trans-shipment". there are jeeps stuck between landslid segments that are shuttling people back and forth. we buy pink plastic lining and food... haldirams and kit-kats. take a bus to narain-baggar. the bus driver plays a soundtrack specially prepared for the raj-jat that will dog us through the trip. the words "jai", "jai bhola" and "nanda rajrajeswariiiii" are burned into my auditory nerves for eternity. around narain-baggar a chunk of road a few hundred feet wide has fallen out. the first trans-shipment is luxurious, we pay double to have our two seats in the jeep to ourself. the next trans-shipment we miss and instead walk 2km to the next road block. with 12 people to a jeep that is teetering from side to side like a man controlling the urge to pee, its safest to be the two hanging off the back, standing on the footboard. thats trans-shipment three. the next one is the same except there are now four of us hanging off the back, me with one hand, one foot and two fingernails. trans-shipment five has us on the roof in relative style. this mahindra incarnate of the willy's jeep has 24 people and baggage... 4 in the driver's row of seating, 4 in the one behind it, 8 crammed into the two seats which face sideways, 4 hanging off the back and 4 on the roof. this gets us to thairali. we plod further to deval. the young dashing jeep driver is a leadfoot. we cover 5 of the 10 km over bad unpaved rainwashed road in almost as many minutes, then run out of gas. he walks 2 km to a nearby village and comes back with a jerrycan of kerosene or diesel he is not sure, but it does not matter, these machines can run on camel piss. finally we get into deval and try to talk our way into staying at the govt. tourist lodge. its booked for the District Magistrate (DM), a youngish chap from Delhi called Rajiv Aggarwal. we talk to him and he does not seem to have a problem with tossing in a couple of beds for us in the dorm with his entourage. he is enjoying civil servant fiefdom and is going to make something of this yatra. a crore of rupees has been pumped into arrangements. the media coverage is going to be huge, many foreigners, 40-50,000 people. he does not really give a damn about the yatra but it will be good for the area and should boost tourism big time. we thank him for the shelter and ask him to join us for a bit of brandy. oh no, its the yatra, he must be careful. the night is clear, cloudless... in the distance we hear landslides. in town we get eggs and rotis for dinner. my standards of acceptable food and hygeine are starting to drop but i feel alive and i feel home.
1.
bathe... a rarity, for some others in the dorm, someone piped up "jo kare snaan jaye shamshan, jo mooh dhoey uska kalyan hoye". tea and eggs in town for breakfast. meet a swami in the shop who has come from kedarnath. he is no more than five feet tall with a mischevious smile and carries a trishul that is larger than himself. he talks about the trans-shipments. "yeh jo raste toote hain, sab devi mata ki leela hai. abhi to aur bhi kathinaiyan aayengi. kintu, jiski chah hai, usi ki rah hai". we get up to find our next jeep ride. the 12kg packs are still befriending the backs they will be riding on for the next week. ride in the back of an army truck to phaldia gaon. the truck stinks of sweat, grime and damp clothing trapped under an airless canopy. someone had puked... much happier walking as we hop off in kandi, catch our first glimpse of the yatra as it leaves for mundoli. walk a few km, plant a couple of trees. the sun is bearing down and mundoli is 10 km away. we try and flag down jeeps to no avail. desperation and jeep experience work in tandem. we race after a jeep that would not stop and hang off the back. i slip, i run some more, i hang on. 10 km is long way to hang weighed down by backpacks. i manouver up to stand on the spare tire. much better but hashmat is hurting and needs to scratch his nose. i get my pack off and toss it on top helped by three school kids riding the roof. i get on the roof. hashmat makes it atop the tire and then with a similar manouver is on the roof. meantime the jeep has travelled more than a couple of km. staying on the roof then becomes a challenge. with its skewed weight, i almost go over the side every time the jeep makes a right turn. the school boys help us hold on. in some sense it seems pathetic to romanticize, glorify or even write about with any sense of adventure, what for millions is survival everyday. i buy scarves in mundoli. this is a commercial yatra... merchandise includes ball caps, t-shirts and saffron scarves. climb 500 ft up to loharjang pass at 7500 ft, where a crowd of people are getting themselves certified. govt. doctors are taking their blood pressure to see if they are fit enough to undertake the rigourous trek and the higher altitude. its a voluntary check. ironic, most of those that pass are probably nervous enough to abandon their quest at the first sign of discomfort, those that fail have an added resolve, and the true pilgrims could not care less what the medical world has to say about their ability to realize their holy goal. eat more eggs at loharjang, go back down to the village and then climb back again with our packs. we meet police chief nautiyal on the way. he is on govt. duty, he says... in fact he is even getting his DA, he says with a grin. continue on about 4 km to a vale called maldhar, where we make camp. i tweak an ankle ligament on the way, which frozen on hashmat's medical advice and then cured by the devi mata and a brufen does not bother me much. the evening in maldhar provides perfect, dry, camping conditions and a panoramic beauty of a scale that can only be found in the himalayas. our squat yellow igloo-shaped north-face tent comes up for the first time. there is a mobile tea shop there, just like so many we were to encounter at various spots along the week and a half long trail. hashmat chats up people in the tea tent. i listen to "dun ringill" from the 20 anniv. tull box set and open my reading for the trip... jean-paul sartre's "the age of reason" pulled from a pile of dusty books in delhi, in a hurry at random. read but a few pages and hashmat hollers that the khichri is ready. a man at the tea shop with the unassuming aura of a semi-urban pahadi, prashant bisht soon busts whatever notions we had of a semi-urban pahadi. over the course of the trip he would bust pretty much any notions about anything we ever had. that evening he told us he was a trader from almora. once a year he made a month long trip by foot to tibet to barter sugar, spice, medicines and clothing for pashmina wool. recently he had spent two months travelling with his wife and son through europe and africa. we break out some brandy taking care to only have a couple of swigs, saving it for when the weather got colder. we join prashant and his 9 childhood friends. they have a roaring fire going and they belt out pahadi songs and dance with abandon. we learn more about the history behind the yatra we are on... once in 12 years when a 4 horned ram is born in the village of kulsari, ants infest the rice and the people know its time for the yatra. the 4 horned ram is decorated with the goddess' trousseau and taken from the village of nauti over about 300 km to be freed up into the mountains from homkund at the end of the yatra. used to be the yatra had human sacrifice till a century ago. now there was only ashtabali, the sacrifice of a buffalo and seven sheep in kulsari along the yatra route. the govt. had prevented it this time but we were told it that it happened covertly anyway. what was a govt. compared to the force of tradition and religion. there was to have been a match of wits between the priests of two yatras that were crossing in the town of nand-kesari that forebode some violence. "the media was disappointed", DM rajiv had told us smugly.
2.
7am and the crowds are pouring in from mundoli. much interest over our tent. its about 10 km to the village of wan. hemp grows wild all along the way. again we stop for tea and wild mountain cucumbers the size of a small melon. meet a sardar journalist from from delhi along with two foreign ladies. he is with yatra-india.com and is a paying client like the foreigners of apun-ka-india.com. its starts to rain as we get into wan around 1:30. we use the DM's name to leave our packs with the chowkidar, negi, at the guest house 500 ft above the village. the sky drips its heart out. one of the lessons on this trip is one of patience. there is not much one can do in pouring rain in a village that is waiting for the arrival of a deity. we go tea stall hopping. the tea in the mountains is like sherbet, tea and sugar in equal parts. ...and i dont particularly like tea. still we drink about 5 cups of tea each. it feels like 7pm in the evening but its only 3, yet. the village houses have been decorated and opened for the yatris to stay. the women are decked out in their traditional jewellery. people are crowded with a canopy of umbrellas on the rooftops of houses around the village temple. hashmat shoots a few faces. there is an intensity of aticipation in them. this village is the home of latu dev, the protector of goddess nanda who came forth to see her off to the home of her lord. a large turnout of devotees is expected. yatris pour in slowly, much slower than the rain. we sit on rocks with our umbrellas and count foreigners. one, two,... there are about 11 all told. eleven, an unprecedented boost to local tourism. in the morning a yatri greeted hashmat, "hello, how are you?". "namaste, theek thak", replied hashmat, to which the man turned to his friends and said, "saala, namaste bhi bolta hai". its both amusing and tragic to be mistaken for a foreigner at home. we continue to greet and wave at people we have met over the past 3 days. i know more people here than i do in delhi in 20 years. the doli arrives. the priests along with the yatra are met by the priest from the village, an incarnate of latu devta who begins to shake and go into a trance. its impossible to see whats going on but i lift hashmat onto my shoulders and he in turn shoots over the crowd. only the pictures might tell what exactly was happening while the priests were dancing in delirium. hashmat runs out of film and has to go all the way up the hill for more film. i remain to capture it with my eyes. someone comes and asks me "oh bhaiya, aap bhi jai-mata-ki-dot-com se ho". i laugh. he is confused. i try and make it to a nearby roof but its slippery and too crowded anyway. then i get jostled by the crowd and am 4 rows of people from the priests but a good 4 inches taller than anyone in front of me. the priests are high-fiving each other by throwing what seems to be flower seeds at each others hands. i raise my hand and a priest smacks a handful of seeds at it. then suddenly its over. its 5:30 and pouring. i make it back up the hill and sit out of the rain in a tent with one of the almora gang, mahesh. finally hashmat shows up and we put up our tent in the dark in the rain. i end up eating only half a roti but we have a swig of brandy each. the chowkidar warns us to be careful beyond bedni. there are many stories of locals poisoning tourists to steal their possessions. "kisee ne aapko maar diya to bad mein yeh mat kehna ki negi ne nahin bataya", he says.
3.
6am, the scene explodes. its 8 by the time we leave. its an easy few km and then a gruelling haul that takes us straight up from 8000-12000 ft to a spot called ghairoli patal by 2pm. i get winded halfway up from lack of food and water. from there its another 1000 ft. up to bedni bugayal. i lie in wait while hashmat scrounges tea and a couple of ears of corn. a baba from ayodhya approaches me and tells me i look more serene that most of the other ascetics around. maybe i should compete for the serenity sprint at the next ascetic olympics, i think. hashmat returns and we go on. rain and pack mules are already breaking up the trails, making them slick. by 4 we are at bedni. we hear and see signs of fatigue and resentment at the climb, altitude and weather for the first time. "yaar, woh mere karodpati ka program miss ho gaya". at the same time a 6 year old girl has walked 42 km with her parents without a whimper to get this far. the clouds have shed their load and the sun shines down on miles of meadow, lush green, cradled in the arms of 7000+ meter peaks trishul and nanda ghonti. activity is centered around a lake, bedni kund around which multicoloured tents and tirpals spot the landscape for miles. a volleyball court has been set up right beside the kund for the entertainment of yatris. meet up with the garhwal rifles team headed by praveen bhatt. they are volunteering tents for the media and medical and rescue facilities for the yatris. we set up camp near him and touch him for some medicinal brandy later that evening. the almora guys have disappeared. meet up with a young petrol pump owner from dehradun, sachin, who has come up on a whim and is looking for a porter, accomodation and food... sachin offers us maggi noodles that he has managed to mooch off some other friends of his. he tells us a story of meeting a cagey surd whom he told to relax and not be so protective of the white chicks with him. praveen talks of trishul. it was the highest mountain ever climbed, by longstaff, for a long time until everest was scaled. the locals say its inauspicious to climb the home of lord shiva. a french couple on a climb allegedly claimed to have seen a snake at 20,000 ft, and then a sadhu a little higher. their porters bolted soon after and it was the last that was seen of the french couple. some journalist comes to interview me. he asks me a question or two and then ends up complaining about the lack of facilities and bad planning on the part of the civil administration. our food standards continue to plummet. water is drunk straight from streams without any purifying tablets. we had 5 puris each with coarse grain salt for lunch. i totter off in the dark looking for a fire on which to cook our corn. a baba from haridwar is cooking and handling a chillam at the same time. he does the corn to perfection first with the sheaf and then directly on the fire. he gives me black salt, red pepper, corriander and a lemon for the bhuttas. its the best meal we would have had or have in days.
4.
up by first light. its a beautiful sight. hashmat has taken off for the ridge to get in some good early morning shots. in the distance one can see chaukhamba and other kedarnath peaks as well. i read, waiting patiently by the tent and then impatiently as the call of nature gets louder. finally hashmat shows excited and apologetic. i hike up the hill and find a place in a group of about 5 squatters in a poisson distribution looking down at the morning festivities at bedni kund with chaukhamba in the distance. one guy remarks jovially, "yeh devi ma ke sthan mein tatti ki khushboo bhi kuch aur hi hai". back at the campsite our tent continues to attract attention. "oiye, yeh kacchua kiska hai". its a leisurely 6 km hike to patal-nachoni where raja jaskawal was entertained by his dancing courtesans during a yatra in the 14th century. from there its 6 km and 3000 ft up to bagubassa. the site is largely a fairly rocky and steep slope around the trail, with nowhere near enough space to house tents and tirpals for the 5000 odd yatris continuing. we look for our almora friends to no avail. in fact there are few familiar faces, maybe we are there too early.we are quite beat though, and pitch camp on a rocky lump by 3pm. feed on hashmat's power packed rotis, haldirams and kit-kat and are in bed by 6 pm... its cold and rainy outside. we are well-equipped, a collective 25 kgs of stuff between us makes for self sufficiency. the mass of yatris are self-sufficient too. they carry something more powerful that weighs next to nothing. its called faith. "devi ma raksha karegi". they should sell some of that in outdoor and adventure stores. at higher altitudes, though, like air, even true faith gets rarer.
5.
we are on the trail by 6:30am. we make good time and are at roop kund by 8:30. the trail up to roop kund at 16000 ft is a lung burner. "oh shivji bhagwan, yeh hi jagah milee thi shaadi rachane ke liye", laments an old man behind me on the trail. there is a tea stall up at the kund. the price of a cup of tea has escalated to 10Rs. roop kund was formed with a flourish of lord shiva's trishul to quench the thirst of goddess nanda and to double up as her boudoir. the name roop kund came from her satisfaction with her reflection in the lake. for the first time we see and hear a bit of bickering over religious protocol between priests of different villages. roop kund is where raja jaskawal and his entourage paid for his misdemeanours at patal nachoni. they were caught in a blizzard up at roop kund and the entire yatra in the 14th century perished there. the bowl shaped lake is encrusted with skulls, bones, and frozen flesh remains of man and animal from over 600 years ago. the rains had melted away a lot of the snow and it was largely slushy, barring a side of ice, where some interest was generated by a broken old, caked in mud sandal of a size that would fit a baby yeti quite well. "yeh to raja sahib ka joota hai, itna bada pair aaj kal koi aadmi ka nahin hota", says one man with complete conviction. the others around look at him in awe, marvelling his sharp analytic observation. i end up with 4 cameras slung around my neck voluntarily offering to take pictures of various individuals and groups as they pose with skulls and bones and the ancient royal footwear. through the 3rd viewfinder i see what looks like a very faded but unmistakable sign saying "Bata" on the sandal. somwehere around the lake some other poor idiot is searching for a lost sandal. like all yatris i dip my head in the muddy but holy water of the lake. i doubt the next yatra 12 years hence will see many skulls and bones... archaeologists have already taken a number of specimens for museums and research. many more form souvenirs for the yatris. some say its bad luck and only "tantar-mantar-walas" will take them home. some say they are here to take back what rightfully belongs to them, the bones of their ancestors. some say its a token of proof that they made it to roop kund, since photographs can be doctored these days. we push on for junagali, at 17500 ft the highest point on the trip. once again we hit a jam as at least 3000 odd people bottleneck over a 17500 ft pass in a day. that itself has to be a record of some sort. people with all kinds of equipment... some with packs like ours, some with little cloth bags, some with just a rosary. hiking boots, to sneakers, sandals and bare feet. gore tex, rain jackets, umbrellas and loin cloths. people yell "jam", "jai nanda mata", "man jam", "har har mahadev", "jai sanatan dharam ki", "jam situasan". a baba in line behind us keeps everyone in good humour... "jai bam bam bhole, bhang ke gole, khale chole, lagao dam, mite gam, kamaye duniya, khayen hum". once more its an exercise in patience... one step at a time, one foot in front of the other, looking only at the immediate trail ahead and the back of the person in front. juna gali is a knife edge ridge with sheer drops on either side which people obliviously stroll across in the heavy fog and cloud cover. from there its a steep descent over rocks and then meadow that gets slick as it starts to pour again. shila samudra glacier is at 12000 ft. we reach the campsite by noon. its fantastic. rugged, nanda ghonti and trishul rising from the base. once again the almora folk elude us. this quest for people we can trust is more for the comfort of leaving our packs with someone, allowing one to explore more freely. once again we squander an hour over many cups of tea. "aaj to badi bikree ho rahee hai. do hazaar to ban hi gaye honge", jokes hashmat with the young tea tent guy from the village of sutol 22 km away. "zada hi ban gaye, ji", beams the guy almost apologetically. this sheer lack of guile and intrigue among the pahadis is very endearing. finally we latch on to manish, a guide from joshimat and his team, a young girl from dehradun, megha and an israeli girl sigal. we set up camp near them and partake sparingly of their khichri. then we walk up to the ridge to watch avalanches come down the glacier, snow rolling over the glacial scree. we swig on brandy sneakily and watch the locals crawl around like ants depleting the vegetation of its precious herbs and rhododendron leaves. one man points at the purple delphinium flowers. "bhai, yeh poison hai, iss mein aisa nashaa hai ki aadmi bade aaram se mar jaata hai". his friend is awestruck. we hear all sorts of things. we hear again of this satellite phone. its supposedly in a red tent. there are about 5 red tents that fit the bill startegically placed as far from each other as possible. we try about three to no avail, but up by the third one we catch up with praveen bhatt and his boys. with him is a col. from a royal family of garhwal... and we indulge in a bit of civil administration bashing. some of it are the usual differences of opinion between civillians and the military, most of it seems justified. the yatra has turned miles of pristine landscape into a semi-urban junkyard... if the administration cannot educate or coerce the yatris into picking up after themselves they should employ a team to clean up behind them. this has not even been considered. ...and what of board and lodging. either promises have been broken or promises that were never made have been miscommunicated. either way the average yatri with no more than an umbrella and shawl with which to brave the elements has to pay. to make matters worse the DM's party has run out of food and now poaches off the common market. we bump into sachin who is also looking for the satellite phone but more importantly on a quest for chowmein which he has heard is being cooked somewhere within this large bivuouac collective. we give up on the satellite phone. back at our tent manish and his party are sitting around chatting. sigal, the israeli is sitting to one side with a piece of paper, feverishly counting with her fingers over and over again. hashmat thinks she is praying. i am convinced she is doing her accounts and has just found out that she has been overcharged. turns out she was memorizing classical indian dance beat patterns. we have inadvertently been transformed from trekkers to yatris.
6.
we set out for homkund at 8 with manish and his party. the main yatra has already left at 7 but we catch up crossing quickly over the sea of rocks that give the glacier its name. the plan is to leave our packs with manish's porters halfway so we can zip off to homkund and pick them up on our way back to chandaniya ghat for the evening. the trail is jammed from that point on but without packs and gentle curses from those in queue on the trail, we break new ground under the trail with a bit of old fashioned bushbashing. people threaten to stop me from getting back in line. one shouts "woh to baba hain, unhe jaane do". homkund itself turns out to be a revelation. the holy spot where a pond was expected has probably been covered over by glacial scree. the goal of this gruelling three week yatra is but a figment of historical imagination. the main puja is carried out around 10am anyway. the priests seem nonplussed but happy to finish with their duties. the people want more... so the yatra continues upward halfheartedly, lost, not quite knowing what to look for anymore. is it a state of mind? some go another half a km and call a 2x2 ft hole in the ground chota homkund. some keep on further, others start to turn back. people are good at deluding themselves... nobody admits to being clueless as to what or where homkund is... when asked in broad terms they have been there, seen it and successfully completed their yatra. when questioned further they have been to chota homkund, the other one is a good 8 km up higher. when questioned further they have not actually seen or touched bada or chota homkund but its right about here somewhere and so they have essentially reached the holy spot. some are not so good at hiding their disappointment. "saale, mein to dehra dun mein hi accha baitha hua tha", quips sachin. "wohi to, why do you think its called 'home' kund i tell him". then people begin to search for a moral to the chain of events. its really about the journey. homkund is within each one of us and this is true. the yatris are a tenacious bunch. if only such determination as fuelled by their blind faith could be channelised into an area that might uplift their daily existence. then again it is the nature of that existence that is the font from which their faith springs. its catch-22. those that dont seem lost or philosophical dart across the bridge over the nandakini and head for sutol 25 kms away. they know its going to be a long day and the stampede will follow shortly. we have to double back to where our packs are 2 km. back and cross the river there. i slip in the slush and sprain my shoulder trying to arrest the fall. by the time we get back to our packs, we can see lines a mile long on two parallel trails on the other side of the river. the river itself is swollen with incessant rain and was best crossed back at the bridge. still people wade through in chains of twos and threes. panic is beginning to set in as the rain comes down harder. in the melee we reunite with our almora friends and decide to stay behind the rush. we would camp up this side of the river bank and cross the river early in the morning when the snow freezing at night ebbs the water levels of mountain streams. my shoulder is quite immobile and hashmat does most of the work putting up camp in the pouring rain. we watch the lines on the other bank move like snails till we were are wet and numb from cold. we are in our tent by 4pm. sleep for two hours only to be wakened by two soaked almora guys bearing a large pot of tea that they brewed up at another campsite up the mountain. we have been pulled into the hearts and fold of 10 childhood friends with few questions and no strings attached. we dip into our own emergency reserves for food. its a rough night. the tent badly pitched, allows water in for the first time. rocks under our backs, a brufen numbing my shoulder, thoughts of an impending river crossing. its a long night...
7.
we are sore but anxious to move by 7 am. changing from dry clothes back into soaking wet scummy gear has got to be one of the most unpleasant feelings known to man. the water level has not really abated given the torrential rain through the night. we cross the river at 8 without much ado. the water is cold and just below waist high. the trails that were jammed for miles on the other side are empty. a couple of km further is chandaniya ghat, a potential campsite. its empty. people have moved on. another km down is a heavily landslid area. i walk gingerly behind kandpalji. i remark that a lot of tent sheets and tirpals have been abandoned along the way. there is a yellow one right by the trail. kandpalji says there is someone sleeping in it. i am amazed to see two feet, one with a shoe on peeping out from the tirpal. its morning, i tap him with my stick to wake the man. "oh bhai, utho, suvera ho gaya". by now a couple more people catch up and we unfurl the tirpal to reveal a hand, bruised and blue and then a silhouette of a young man, temple bashed by a rock and one half open grey eye. mahesh goes through his pockets. there is no identification, only a camera. there is some speculation but the consensus is that someone has kindly carried the dead man up to the trail and covered him to be collected later. just earlier today hashmat mentioned that there must be something ethereal about this yatra for this many people to have undergone it without any reported debilitating injuries. the aura is shattered. it is still some 18 km to the village of sutol. as we proceed, we cross more people hammered into submission by the elements of the night before, broken, trudging along to survive like hapless refugees. one man tells hashmat, "bali nahin chadayi, auraton ko chalne diya, tabhi iss baar aisa hua hai". we plod on. the civil administration has packed the rocky trail with mud to make it more comfortable for the yatris to walk on. the rains have turned this mud to a river of ankle high sludge. on level ground its like walking on flypaper. on a climb i am constantly reminded of the folktale where someone went up 3 steps and back 2 to climb out of a well. the descents are the worst. its like being on a ski slope where the rocks camoflaged under the mud are like landmines guaranteed to trip you up. cross over a dozen streams, spring and waterfalls. for the first time, those barefoot have an advantage. by noon we have painstakingly covered 7 km and stop for tea and khichri at a little bivouac. there are many stories and theories about the dead man. some claim more are dead. some say a foreigner fell into a crevice while filming the 4-horned ram and disappeared. there were actually four, 4-horned rams on this yatra, three were probably reserves but were now running loose. some guy at this place had grabbed two of them. the tale of the 4-horned ram is a funny one. having been domesticated and treated royally for weeks it is let free to roam at an altitude much higher than what it is accustommed to. to facilitate this the ram is starved a couple of days prior to homkund and then to entice it, food is placed uphill from the site of departure. while the hungry ram satiates himself, the villagers make a quick exit. at the last yatra the ram, gobbled the grub and followed them back, at which point they had to throw stones at it, the messenger of the devi, to send it on its way. fortified with food and tea we continue, down a hill that has no traction. young bamboo shoots are permanently bent horizontal from people grabbing them like ropes. i can use only one arm and so every time the bamboo support shows up on my left side i just slip and slide. the hill seems to go forever. someone says they feel like commandos in training. the slog goes on. every now and then we come across someone in trouble. a guy from delhi with a sprained leg and no shoes walks like a shipwrecked man about to pass out on dry land. his one shoe broke, so he threw them. he spent the night in a shelter and someone stole his maggi noodles. he wants to hire a porter. he wants to buy biscuits. he needs a horse. he has money but his attempts to buy his way out of trouble only piss people off. no price can be put on human kindness along the trail under these conditions. we give him a brufen and some water. further on a young porter is flat out on his back with a load that is at least 20 kg. we ask him if he is ok, there is a feeble nod. a few old men laboriously peg on. around 3pm someone tells us with conviction that we are but a km and a half from sutol. we hear the same thing an hour later and yet another hour later. around 5:30 we reach a campground that is still 3 km from sutol. manish, the guide from joshimat and his party are camped there. the girls tells us that they got separated on the trail and spent the night in shelters along the way. with an hour of light remaining we decide to make a push for sutol and maybe find a room in the village for the night. they say its going to be crowded there. about half a km down is the tatra of the village... animal barns and temporary shacks cleaned up for possibly housing yatris. we manage to scrounge one for the two of us. its a stable about 12 sq. ft. with hay and leaves on the floor, some wood and a few stones to make a fire but no ventilation other than the door and a peephole of a window. we get ten cups of tea to share with our almora friends who come up shortly and are able to get another much larger barn, big enough to house them all. i go to fetch water from the local nala, hashmat gets a fire going in our barn. the fire needs to be constantly tended to keep it going. it seems a long way to have come to die of carbon monoxide poisoning. the only place we can sit without gagging on the smoke is very low and close to the fire. the next few hours are spent with a haldiram packet of peanuts and the precious remaining brandy drying the sleeping bags and other articles of clothing. around 9pm just as we are looking to turn in prashant comes up to say dinner is ready in their barn 5 mins. away. we are tired but he wont take no for an answer. he has just taken some medicines, food and a joint to some tired yatris in an adjoining barn. we troop over to their barn where a tub full of maggi noodles has been made. we have two huge helpings each. ...and noodles are at the rock bottom of hashmat's culinary totem pole. they rescued an old man from almora with stomach cramps and the delhi guy who was lost in the dark. also a young guy who had been screaming for help in the dark. a chequered but safe bunch. the old man from almora wont eat, he holds his stomach in agony. the delhi guy wants to buy something as usual. scared of being eaten by a leopard in the jungle he had started running, leg sprain notwithstanding. prashant tells a story of how he shot a maneater leopard in binsar. its quite an incredible story. we inform the DM and a rescue party for the sick with us. we walk back to our barn by 10pm. the fire is out but it is thick with smoke. the door is open but the rain outside holds the smoke in. we get into our sleeping bags and a long miserable day drifts away.
8.
wake around 8am as mud falls on my face from the celing above. the old man in the barn next door is groaning persistently. through all this our stomachs have held strong and first thing in the morning we are ready for a walk into the bush. we leave the tatra around 9:30. finally give away a week old tshirt to a local on the trail. stop at a little temple by a huge old juniper tree from where its a steep descent down to the nandakini river, across it and then up to the ever elusive village of sutol. another old man from almora died the night before from the cold. his body lies by the village gate. we look for porters and mules but there are none to be had. hardly matters, the pack by now is like an appendage, one does not feel the weight. the almora folk buy the last remaining bottle of brandy, which spread twelve ways amounts to a thimblefull each, which we all enjoy with some corn. there is no way we can make the 25 km. from here to the village of ghat tonight... we live it up at a local dhaba. one of the guys tries to chat up ma saraswati, the barefoot dreadlocked german girl who speaks hindi with a pahadi accent. houses that she graces with her presence are considered blessed. its eastern mysticism working in reverse. by the time we get moving its past noon. we plan to stop 14 km. down in the village of sitol. we pass the DM's red and blue entourage on our way out. "so, you have seen the real mountain", he waves as we go past. the sun is out for the first time in four days and it lifts spirits like nothing else. i slip back into sandals, pull out my walkman and hop-skip, the trail. hashmat starts to take photographs again. further down there is a two and a half km climb over a pass. my eye is fixated on a griffon vulture riding a thermal, the jonathan livingston seagull sountrack playing in my ears, i crank up the hill without realizing it. on the other side hashmat has managed to hire two mules. we are making fantastic time and without packs on our back we could zip it to ghat by nightfall. we cant leave our almora friends though and they take their own sweet time on the ridge, so we let the mules go and carry on. as we start a descent into sitol it comes down pouring again. the pink plastic sheets come back on. the umbrellas go up but my sandals have a good grip and we continue to make good time. its still a good 12 km to ghat but the trail has widened to an unpaved but offroadable road barring the landslides. we are told that we can get a jeep 4 km. down at the village of chepna. we make it to the village of vaduk by 6pm. ghat is overcrowded the villagers say. hashmat is hobbling on his heels from stones inside his shoes that have tattooed his undersoles. just standing is painful for him. we decide to call it a day at vaduk just a km. from chepna. we have the classroom floor of the village school to ourselves. a guy from the village cooks kadi-chawal for us. kandpalji scrounges up some local hooch, kacchi, from the villagers. i read for the first time in days, jot a few names and addresses down by torchlight. some of the guys play cards. prashant talks about us all doing a trip together next year. a few suggestions are thrown out... there is talk of trail pass... "that requires serious mountaineering equipment and expereience". "we'll get one guy trained", mahesh says and he can teach the rest of us. "what is yaar, anything is possible", prashant says. hashmat cleans the moisture out of his camera lenses. the moisture in our brains will take a little longer to dry.
9.
wake up badly bitten by some bug. the small of my back is like a pimpled rubber pingpong bat. hashmat is still hobbling. we make it to chepna by 7:30am. have hot samosas and tea as we wait for the jeeps to show. landslides broke the road at night... another 8 km to ghat, no jeeps. this trip is destined to be completed on foot with no porters. but the weather is good and spirits are high. one of prashants porters ram bahadur has tanked up on the local kacchi. "iske engine mein to kaphi petrol hai"... he flies over the trail with a gas cylinder strapped to his back, an impish grin on his face. its 11 by the time we get to ghat. more news of the dead. 5 reported in the newspapers, many injured. among them a 16 year old porter, from starvation and exhaustion. visions of a kid with a large load, flat on his back on the trail, come flooding back. we have to call home, tell people that we are ok but that will have to wait till we reach karanprayag. praveen bhatt is getting his troops back to lansdowne. exchange addresses with him and we are on a jeep, some 15 of us headed to karanprayag 40 km away. there is much backslapping between us. in karanprayag we all call home, then part ways. the nanda raj-jat soundtrack comes back with a vengeance at the lower altitudes. its blaring from every tincan loundspeaker around. we are headed to haridwar where we will probably spend the night and catch an afternoon train the next day. the first leg is a shared jeep out to srinagar. we are there in good time 3pm. ...and then a bus that gets us into rishikesh by 7. along the way we see thousands and thousands of sikhs headed to and from hemkunt sahib in giant charter buses and jeeps. at rishikesh we get a cab to the haridwar railway station. then one realizes that its both financially viable and probably more comfortable to let the cab take us all the way home. we call to tell the folks we will be home by 4am. then we stop in at the polaris restaurant is roorkee. 2 beers and 4 dishes later the journey to delhi continues delirious and contented. 2 km. from from home we are held up at a police checkpost for nearly half an hour. the cab driver has UP license plates and his papers are incomplete. finally we are let go without a bribe. its the devi mata. an hour later after much scrubbing in the tub, 5 of the 10 layers of grime are off and a soft bed is unfamiliar but quite welcome.
10 sept. 2000.
i just picked up "the age of reason" again. its funny, but for a book pulled from a pile at random i cant quite think of a better way to describe the spirit of the trip than what i read on the first page of the book. ...and it i dont quite know yet what relevance it has to rest of sartre's story. ...a stranger approaches mathieu, asks him if he has a franc or two to spare, he is hungry. thirsty you mean, says mathieu, smelling drink on the strangers breath. no, hungry, says the stranger. none of my business, says mathieu giving the man five francs. you are a good sort, says the stranger, i would like to wish you something. what will it be? whatever you like, says mathieu. good luck then... hows that. but thats not enough i want to give you something. what will it be? whatever you like, says mathieu. a madrid stamp, the stranger gives him what appears to be a very personal madrid stamp. they move on. the stranger shouts out after mathieu holding up the five franc piece. well? says mathieu. some guy has just slipped me a five franc piece. i'll stand you a rum.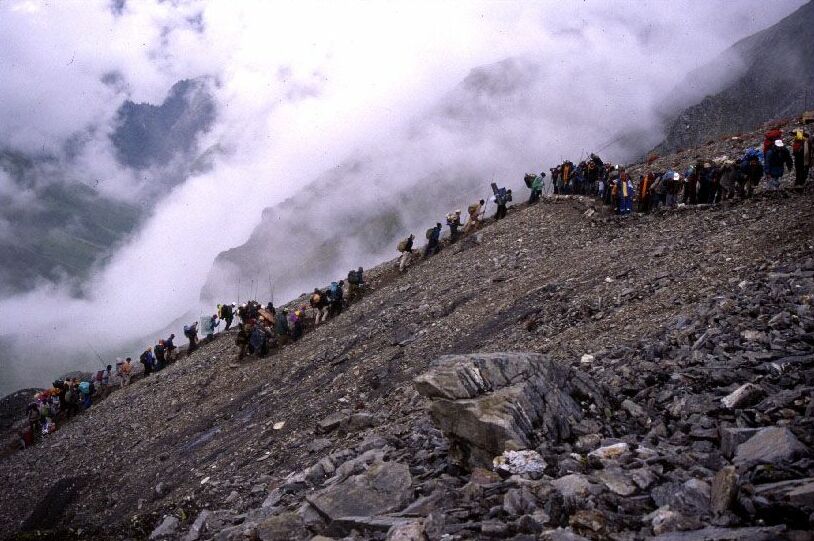 The grind to Roop Kund