Boon Dog All
Health Specialist Laura DiBattista highlights a 'pet' project that's as good for the dogs as the people who love them.
Normally, dogs aren't allowed anywhere near a hospital. But in this case, they can't get enough of them.

Caring Canine, an organization that offers four-legged companions to elderly people in nursing homes and long-term care facilities, is looking for volunteers to help brighten up the lives of its clients.

They're currently on a recruitment drive for a few good dogs.

Those who use the program attest to its spirit rousing results.

"I love him and he is so gentle and so trusting," said Yvonne Cholmondeley, a Bendale Acres resident.

Cholmondeley looks forward to the visits.

"I am the last of my family," she said.

Will Tso, whose dog Chestnut is part of the program, finds involvement beneficial.

"When I take him volunteering you can see by the way they react that the residents are very happy and so that brings joy to me as well," he said.

Any well-behaved dog can become a Caring Canine. As the company's executive director Irene Fung explained, the criteria isn't that stringent.

"The dog should have no aggression, like people and like interacting with strangers," she said.

If that sounds like your best friend, check out the Caring Canines website for more information on how to get involved.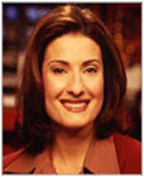 OCCUPATION:
Anchor, "CityPulse at Noon"
Health Specialist,"CityPulse"

SHOW DESCRIPTION:

"CityPulse" is Greater Toronto's News! Morning, Noon and Night, "CityPulse News" focuses on the "Day in the Life" realities of people's lives. CP24 is Toronto's Local News Source --- live, local, late-breaking news programming, 24-hours a day, 7 days a week. "CityPulse" and CP24 speak with a truly distinct local voice. Everywhere. All the Time. Forever.

BACKGROUND:

Born in Toronto, Laura is a life-long resident of Toronto's "Beaches." Upon graduating from Ryerson University, Laura joined Citytv in 1983, initially in newsroom operations. In 1985, she moved to the writing desk---editing and scripting local/international stories for anchor presentation.

As is often the case at Citytv, Laura was soon drafted for on-camera work; first as a "CityPulse" reporter; then in 1988, as anchor of "CityPulse Weekend."

Laura joined "CityPulse at Noon" in 1995 and took over as anchor in 1997. She spent two years as host of "CityLive at Five" in 1998 before returning to "CityPulse at Noon." Laura continues to report on a regular basis for "CityPulse" as Health Specialist.

EDUCATION:

Radio/Television Arts program at Ryerson University

EXTRACURRICULAR:

Toronto Firefighters Golden Helmet Award for her coverage of the fire at St. Paul's Church on Avenue Road.

FAVES:

You'll always find Laura with a book. Her other interests include: travel (as many times as possible to Italy!), gardening and running. Laura successfully juggles her family life (daughter & husband) with the many demands of her busy career.